Storage solutions
Office storage and filing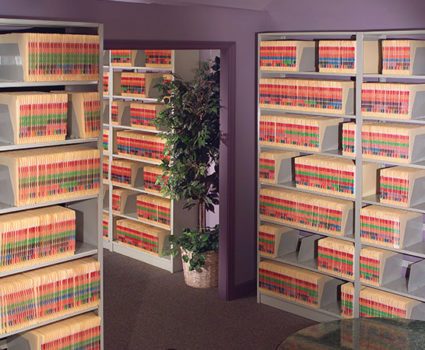 Storage solutions
Office storage and filing
TAB's industry-leading office storage and filing solutions help you access information quickly and accurately, addressing the entire document lifecycle, from creation to destruction. Our suite of products includes file folders, labels, fixed and mobile shelving, records management software and more.
Our comprehensive filing and storage solutions help save you money on storage, improve worker productivity and minimize the risk of lost or misfiled documents.
Our office storage and filing solutions include:
active and semi-active records storage
archival and box storage solutions
open shelving
medium and high-density mobile shelving
storage cabinets and carts
Why TAB
TAB has deep experience in corporate records and information management and our experts can help not just with storage and shelving equipment, but with complete systems designed to save floor space and increase worker productivity, including all the accessories, supplies, and services necessary to make your business more efficient.
Regardless of whether your records are paper or electronic—or both—we can provide a complete framework to facilitate the organization, accessibility, and management of your information. This includes:
finding better ways to manage operations, finance, customer and human resources records

identifying better methods for records storage and space utilization

ensuring compliance with current and pending regulatory requirements

training employees on policies and procedures for corporate records and information management
Get in touch to learn more about our office storage and filing solutions.
or call 1-888-466-8228